Get an Easy
Online Divorce in Colorado
Start a straightforward and effortless uncontested divorce in Colorado. ColoradoOnlineDivorce.com will help you prepare your personalized divorce forms without a lawyer within only a couple of days.
Note: Colorado Divorce Online is not affiliated with the state of Colorado in any way. We are a private business that provides divorce paperwork generation services. We are not attorneys and nothing on this site should be interpreted as legal advice.
Divorce in Colorado is quick and easy
Divorce Online in Colorado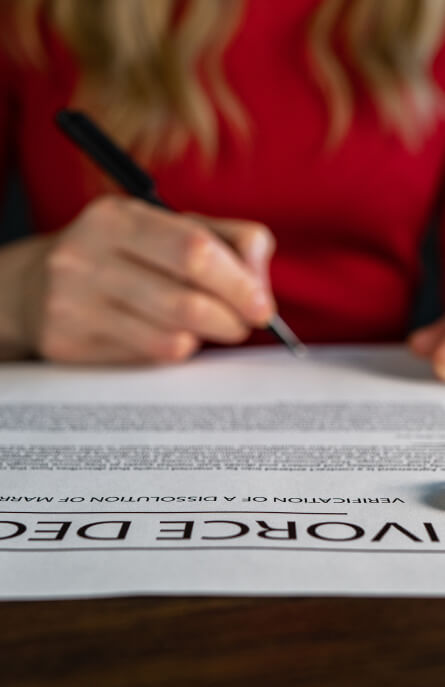 Colorado Online Divorce provides an affordable and easy-to-use online tool to complete court-required divorce papers in a matter of days. Divorcing spouses can quickly select and fill out customized forms, avoiding common pre-divorce preparation mistakes.
The benefits of online divorce include:
Low and transparent price with no hidden fees;
Spouses do not need to have a legal education to select and fill out the papers they need;
Partners can generate forms from the comfort of their homes or offices using any convenient device;
Spouses can work on their documents at their usual pace without adjusting to the schedule of a lawyer;
Partners can go back and edit their divorce papers if necessary;
Spouses can download PDF forms from their accounts and file them with the court in just two business days;
Spouses receive state-specific step-by-step instructions to help avoid the confusing filing process.
To get a divorce online in Colorado, spouses need to have an uncontested case. For this, they should agree on alimony, custody, child support, property division, and other divorce-related issues and sign a Settlement Agreement. After that, partners need to complete the Colorado Online Divorce survey.
When the partners do all the necessary steps, they can generate the paperwork without a lawyer using our online divorce service. Colorado Online Divorce will help you regardless of the presence or absence of shared marital property and minor children.
Compare Your Options for Filing for Divorce in Colorado
Divorce With a Lawyer
A classic dissolution of marriage. Spouses hire attorneys to represent and defend their interests in court in a contested case.
Costly expenses. Colorado lawyers charge from $128 to $507 per hour.
Constant dependence on the lawyer's schedule.
Violent child custody battles cause emotional harm to the parties involved.
Inability to maintain a healthy relationship with an ex-spouse.
A contested divorce is the most prolonged and exhausting way to end a relationship.
Colorado Divorce Online
Reliable, cheap, and fast online tool for uncontested divorces.
No hidden fees, the exact cost for all forms.
Completing divorce documents without leaving home.
Fast generation of legal papers within 2 business days.
Reliable protection of personal data.
Detailed instructions for filing with the court.
Quality customer support at every step.
DIY divorce
Do-it-yourself divorce without legal assistance. Spouses fully manage their divorce from filling out paperwork to representing their interests in court.
High risk of an unfair court decision.
May result in additional costs and a disputed case.
Filling out and submitting forms can be confusing.
Ignorance of local divorce laws can lead to mistakes in pre-divorce preparations.
The divorce process can take a long time.
Here's how our process works.
Looks complicated?
Get your hassle-free divorce
Provide your case details
2
File for Divorce Online in Colorado Without a Lawyer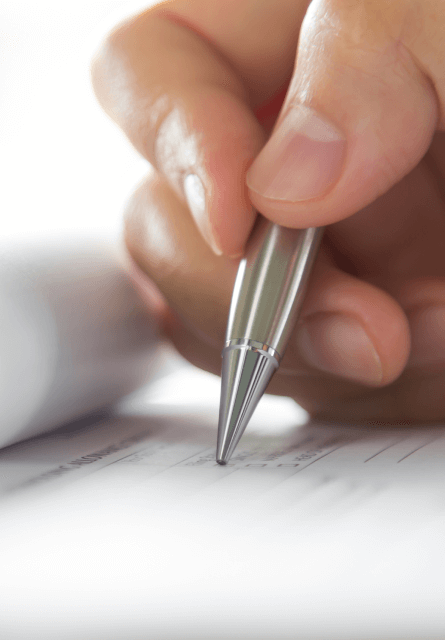 Divorcing spouses can use our online pre-divorce preparation platform to save money and time. However, the following steps are up to the partners unless they have hired lawyers.
To file for a divorce in Colorado, the petitioner must complete and file the Petition for Dissolution of Marriage or Legal Separation (JDF 1101) and the Case Information Sheet (JDF 1000). In addition, the petitioner should file Summons for Dissolution of Marriage or Legal Separation (JDF 1102) if the partners do not file the petition jointly as "co-petitioners."
Before going to court, partners should make two copies of all forms. Then, they should bring the original and two copies of the documents to the county clerk's office, where one of the spouses currently resides.
When filing documents, the petitioner must also pay filing fees. The average cost in Colorado is $230. If the petitioner can not pay the filing fees, they should complete and file a Motion to File Without Payment and Supporting Financial Affidavit (Form JDF 205).
The clerk puts the date and stamp on the documents as soon as the fee is paid. The court clerk will also give the petitioner their divorce case number.
So the divorce process officially begins.
Note: Spouses may file divorce online in Colorado through Colorado's eFiling system. The system frees the petitioner from the initial need to attend court. However, they should check if the eFiling system is available in their area.
Do-It-Yourself Divorce in Colorado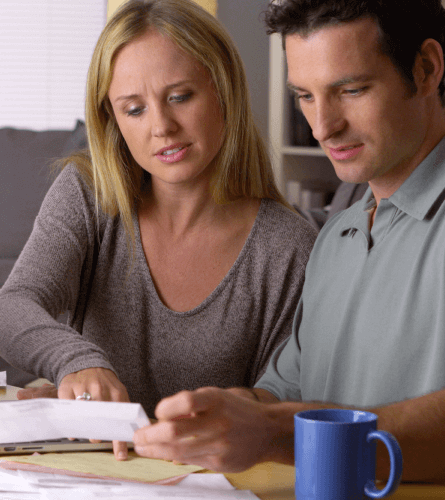 A DIY divorce is not the best option in contested cases. However, if the spouses do not have complex disagreements, they can divorce without an attorney.
If the spouses have minor disagreements, they can turn to mediation and use online divorce to avoid unnecessary costs and mistakes in preparing paperwork. With Colorado Online Divorce, partners can quickly and accurately qualify divorce forms under the latest Colorado requirements and the case specifics.
A DIY divorce is no different from a divorce with the help of a lawyer and requires the same steps:
1. Prepare divorce papers
The initial divorce forms in Colorado are as follows:
The Petition for Dissolution of Marriage
The Case Information Sheet
The Summons
After the respondent's answer, the petitioner should submit other required documents later. Depending on the particular case circumstances, the further list of forms varies.
2. File the papers with the court
The petitioner should file the papers with the local court where one of the spouses resides. In addition, the petitioner needs to pay the mandatory court fees to initiate a case.
3. Serve a spouse
After the county clerk has checked and stamped the documents, the petitioner must deliver certified copies to the respondent. The petitioner can serve the spouse in several ways:
By asking a respondent to sign the Waiver and Acceptance of Service form;
By hiring a sheriff;
By certified mail with a return receipt requested.
4. Wait for the answer of the respondent
From the service date, the respondent has 21 days (if they live in Colorado) or 35 days (if they live out of state) to sign and file a response.
5. Filing other forms and finalizing the divorce
Spouses should file a Mandatory Disclosure, a Sworn Financial Statement, and a Certificate of Compliance with Mandatory Disclosures. However, if the couple has children, they may need additional papers relating to child custody and benefits.
The court schedules a hearing as soon as all the necessary documents are submitted to the court. The judge grants a final decision 90 days after filing for divorce in an uncontested divorce.
All Required Colorado State Forms.
Colorado-Specific Court Filing Instructions.
Unlimited Revisions for as long as your account is active.
Getting a Divorce With Children in Colorado
There are two types of custody in Colorado, physical and legal. Depending on the rights and obligations, they can be assigned to one or both parents.
Physical custody determines who the child lives with and who is responsible for providing for the child's daily needs.
Legal custody gives the parent the right to make life-changing decisions for the child.
Spouses can negotiate child custody and child support out of court. Otherwise, the judge will decide based on current Colorado law and the children's best interests.
To determine a custody arrangement that promotes the well-being and needs of the child, the court considers the following factors:
the child's wishes (if old and mature enough);
each parent's desires;
the child's relationship with each parent, siblings, and other family members;
the parent's physical and mental health;
the child's adjustment to home, community, and school;
each parent's ability to encourage the contact, love, and affection between the child and the other parent;
the ability of each parent to place the child's needs ahead of their own;
the physical proximity of the parent's homes to each other; and
whether the parent's past involvement with the child shows time commitment, values, and mutual support.
In addition, the judge may order parents to attend parenting classes and provide a completion certificate to the court.
The court assigns child support based on the gross monthly income of both parents and other expenses that may occur.
Residency Requirements in CO
To file for divorce in Colorado, spouses must meet residency requirements. State law requires at least one spouse to have lived in Colorado for at least 90 days before filing. In addition, if the couple has minor children, the children must have lived in the state for at least 181 days.
The court may ask the spouses to provide proof to confirm their residence. Proof includes:
a Colorado driver's license with an issue date more than a year ago;
Colorado voter's registration;
income and property tax receipts;
auto insurance card; and
testimony of witnesses.
If neither spouse meets the Colorado residency requirements, the partners should wait until the conditions are met. If they do not want to wait, they can file for divorce in another state where all the requirements for obtaining a divorce are met.
How Long Does It Take to Get a Divorce in Colorado
The length of divorce is controlled by factors such as the type of divorce, the number of disagreements between spouses, mediation, etc.
However, Colorado has a 90-day mandatory waiting period before receiving a final judgment. In an uncontested divorce, the court can grant a decree immediately after the expiration of these 90 days since the couple has no disputes.
The dissolution can last from six to twelve months in a contested case. The longer the contested divorce is, the more expensive it will be.
Customer Testimonials
I've avoided my divorce for almost 3 years becuase the stress and anxiety it gave me was so intense. I found coloradoonlinedicorce.com and they made everything so simple. The whole process was so easy. I did everything with them 3 days before Christmas and figured that there would be a delay due to it bwing a holiday but wokw up Christmas eve morning and there was my paperwork. What an amazing christmas present to me.
Using this site was very user friendly and easy to navigate. Made the process of making sure I had all the necessary documents a lot easier.
Going through my divorce was stressful enough as is, and then having to worry about taking time off of work to go to the court house to file was just added stress that I didn't need. Coloradoonlinedivorce made the whole process simple.
So thankful for this website, I had questions and called support and they helped me with everything I needed and were so nice and knowledgeable
This process helped me during dead end after dead end, I felt hopeless and stuck. Finding this resource and process has helped immensely and I'm thankful the divorce parenting class has additional scientific facts which help make sense of things.
I am more than excited that I found this online divorce filing, as a mother, and SAHM. I wouldn't have time to go another route. I extremely recommend this online business.
Everything was very easy and streamlined. Much easier and way less expensive than hiring lawyers for such a simple divorce.
This was very helpful to me at this time where I was feeling overwhelmed by having to go through the divorce process at all. Forms were easy to fill out and it made this less stressful for both of us.
The process and forms were straight forward and easy to use. If you have an amicable divorce, I recommend Colorado Online Divorce services.
Frequently Asked Questions
How to file for an uncontested divorce in Colorado?
To file for an uncontested divorce online or go to court in Colorado, a petition should prepare a Petition for Dissolution of Marriage.
How much does a divorce cost in Colorado?
Spouses can get divorce forms by downloading them from the court's website, visiting the court, hiring a lawyer, or using Colorado Online Divorce.
How to get a free divorce in Colorado?
Spouses can file for divorce in the County Family Court. Prepared documents should be submitted to the court clerk for getting further instructions.
How to get divorce papers in Colorado?
The minimum cost for a no-fault divorce in Colorado is $230 (filing fees). The price increases depending on the lawyer's hourly charge, the divorce type, and additional expenses.
Where do I go to file for an uncontested divorce in Colorado?
If the petitioner has a low income, they may file for a payment waiver of court fees. They should complete the Motion to File Without Payment and Supporting Financial Affidavit form to do this. If the court approves the petition, the petitioner will be exempted from paying fees.
What are the grounds for divorce in Colorado?
Colorado is a no-fault divorce state. It means that the court does not require the petitioner to prove the specific wrongdoing of the respondent. Instead, the main reason for divorce is irreconcilable differences.
How is property divided in a Colorado Divorce?
Colorado is not a community property state but an equitable distribution one. Therefore, the court will divide the spouses' marital property fairly to both parties, but not in a 50/50 manner.